The Erotic Romance Scavenger Hunt is a blog hop featuring nineteen authors, a ton of exclusive material and fantastic giveaways, and an amazing grand prize for one lucky scavenger hunter.
Just joined the hunt? Click here to start from the beginning.
RULES: Hidden within each post on the hunt will be a single letter that is red. Jot those letters down because they're part of the following mystery phrase you'll need to unscramble:
_ _ _ _ I _ _     _ _ _ _ _ _ _     _ _ R     _ _ _ _
At the bottom of each post will be a link to your next stop on the hunt. Once you've completed the hunt, read all the fantastic exclusive material and entered all the individual giveaways, unscramble the letters you collected to reveal the mystery phrase. When you've uncovered the phrase, fill out the
entry form
in order to qualify for the grand prize. Grand prize is open internationally.
You must be 18 or older to enter.
The hunt will only be open for 72 hours so play fast! Entries sent without the correct phrase or without contact information will not be considered. All entries must be received by May 28 at noon Central Time.
On with the hunt!
*****
Hi, everybody! Today, I have the pleasure of hosting Rowan McBride on my blog!
—–
Rowan McBride is a bestselling writer and a Pocky addict. The two may or may not be connected.
www.RowanMcBride.com
My first book was published back in 2006. Back then I had no idea I wouldn't complete a sequel to any of my stories until 2012. So when One Good Year came out in March, it was a big deal for me. Doubly big, since Just Perfect came out in January, and it was the second story I'd written in the Drayner series (technically being a prequel to Just Wait, although officially Just Perfect is the first book in that series. Way too complicated to get into here).
NOW FOR ROWAN'S EXCLUSIVE MATERIAL!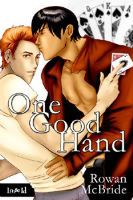 One Good Year is the sequel to
One Good Hand
. It was never supposed to happen. Part two of the "
One Good
" series was supposed to be
One Good Verse
, featuring a totally different pair. Then Loose Id asked me to write a Fling (short story) and I adore Ace and Spade. Thought it would be fun to have a quick peek into how they were doing. Spade blindsided me at sentence one and suddenly I had a novella. That's basically the story of how One Good Year came to be.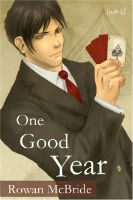 Below is the first chapter of One Good Verse, which is now slated to be the third book in the "One Good" series. The Senai (a genetically engineered servant) in this one is very different from Spade, who had an elegance and playfulness about him that Anne Cain captured beautifully the first two covers. He's got serious issues–but then they all do–and I hope you enjoy this glimpse of the life he's about to start with Anthony.
One Good Verse – Chapter One
I squirmed in the hardwood pew, uneasy as I looked around the small church. This was my first time in a house of worship–everything I'd learned about such places I'd gotten from television. "Frank? Why are we here?"
Frank Bowker grinned as he cast me a sidelong glance. "Because Aunt Ruthie asked me, and I don't ever say no to Aunt Ruthie."
Strange, hearing such sentimentality come from him. And he meant it, too, because I could feel his love for that woman in my own body. I wondered why he felt it for her and not for his mother. "But you never go to church. Not since I've been yours, anyway."
"Don't talk like that here, Rex." Frank winked at me. "I used to go every Sunday as a kid. It's just a lot of hot air." He absently plucked a hymnal out of the wooden pocket in front of him and flipped through it. "Ruthie knows I hate these things, but she promised this would be the last time she'd make me go, and so we're here."
I picked up a bible, put it back. "Why are we here on a Wednesday? I thought church was held on Sundays."
"Services can be held any day of the week, actually. Ruthie says the pastor's son is preaching tonight. He's not ordained yet." He dropped the hymnal into its pocket and leaned back, already looking bored. "She says the kid is something special."
Beginning to relax, I followed his lead and faced forward. Frank, though a little brash and rough around the edges, was the best master I'd ever had. As Senai, I wasn't supposed to be capable of making those kinds of judgments, but I knew the difference between good masters and bad.Some masters could be very, very bad.
The people around me went quiet, and my lips parted as a young man walked to the podium at the front of the room. Raven hair, eyes just as dark. Even the shirt and slacks he wore over his lean, lithe body were black.
And his face… His fair skin made those eyes seem bottomless, and his carved features were softened only by the fullness of his mouth.
He looked up, smiled.
I swallowed hard and carefully cleared my face of all expression. I wasn't supposed to feel anything for anyone but my master. I didn't know why the sight of this person hit me so hard.
When he spoke, I could barely keep my expression blank. His voice was smooth, low, inviting. From word one I wanted him to speak forever.
"Everyone wants to be loved. It doesn't matter who you are, or what you do for a living. It's the most basic, most important human need there is."
Human need. I tried to look away; couldn't because I was caught by his eyes, his voice. But something inside of me started to hurt.
I wasn't human. He wasn't speaking to me.
"Sometimes we wake up in the morning and find ourselves…separated from our hearts. We feel it beating, but it seems so far away." He lifted a graceful hand and palmed his chest. "We do crazy things to bridge the gap. Lie. Cheat. Steal. Then we wonder why that gap keeps getting wider."
Frank leaned forward. My eyes rounded as my gaze shot to his intent face.
Our bond… Our bond was fading.
"Frank?"
"Shh," he said, the sound soft, gentle.
My mouth worked as I tried to stem my panic. I'd never heard Frank make a sound like that before. And every word in the sermon pulled him further away from me.
What was going on?
Scared, I looked forward again. The man's dark eyes touched on me briefly, moved on to other members of the congregation.
"God loves us unconditionally. Once we realize that, our minds calm, the ache in our chests ease. God's love connects us to our hearts, enabling us to connect to the people in our lives."
Connections. Did he know that he was destroying the one connection I'd ever valued?
Did he know he was killing me?
He spoke for almost an hour. About love. About how to be open for it. His tone was intimate, engaging. Everyone in the church seemed to be in the same state as my master.
In Miami, I'd been passed around as a party favor since I was eighteen. The longest I'd ever been with a human was a year, and that was Frank. Once, I'd spent a few weeks in the Midwest, but I didn't know anything about Kansas. I didn't know what kinds of things people did to their pets behind closed doors.
I took a slow, steadying breath as the sermon ended. Frank wouldn't leave me here, would he?
I wasn't sure. Even after sixteen years of living on this planet, I didn't understand its inhabitants at all. They could be kind or cruel on any whim that swept over them.
Everyone around me stood, and Frank tapped me on the shoulder to indicate that I should do the same. He had the hymnal in his hands. When had he picked that up again?
He sang from the book. Our bond was so faint now that I couldn't pluck the tune from his head, couldn't sing the unfamiliar song with him.
I was losing my master.
When the service was finished, people hugged each other. A few even hugged me. Then most of them made their way to the front so they could talk with the preacher's son. An older man stood beside him, beaming.
His father, maybe?
Frank headed that way too, stopping me when I tried to follow. "Stay here, Rex."
"But–"
"I'll be back soon. Just gotta talk something private with the kid, okay?"
I sank down to the bench and gave him an obedient nod.
Little by little, the church cleared. Soon, Frank was shaking the speaker's hand, saying something in his ear. The kid straightened, his face serious as he nodded. He patted the man who might have been his father on the back. The man left the church, while Frank and the kid walked into another room.
I was left alone, trying to pick up on Frank's emotions. I'd never really been able to read his–or anyone's–mind. The bond had never been strong enough. But emotions I could do, and I could usually sense exactly what my master wanted.
Not now, though. All I could do was wait.
Half an hour later, I'd decided that waiting was one of the worst tortures that could be inflicted on a being. Unable to disobey Frank by leaving the pew, I curled my slender body, hugged my knees to my chest. I stared at the big wooden cross hanging at the front of the church and tried not to worry about what they might be talking over.
Frank finally emerged, and the kid trailed behind, his dark eyes locked onto me.
I trembled under that gaze. What did he know? What was he going to do?
Frank waved me over. "Come here, Rex."
Uncurling myself, I got up and walked out of the pew.
He gestured to the kid. "This is Anthony Rose. Mr. Rose, this is the person I was telling you about."
"Nice to meet you," I said carefully.
He tilted his head to the side, studying me.
Those pitch-black eyes made me nervous, and I found myself blurting out something just to fill the quiet. "You don't wear one of those white collar things."
Frank groaned softly. "Rex…"
Anthony raised his hand, spoke in that same velvet-lined tone he used on stage. "I'm still in seminary school. I don't get the fancy collar until I'm ordained as a minister."
I nodded awkwardly. He shouldn't have intimidated me so much. We were the same height, and he was only a little broader than me. My Senai strength would be more than a match for any sort of attack from a human.
Only… I didn't think he'd ever attack me, and somehow that intimidated me even more.
Frank cleared his throat. "Rex, I've been talkin' with Anthony here, and we both think… I mean, I think…"
My gaze drifted to Frank, and I knew what the dead feeling inside of me meant. "You gave me away."
He glanced at his feet. "Yeah."
"Why?"
Frank took a deep breath before dragging me into a rough embrace. "I like you. I really do." His meaty hands gripped me tight. "I just gotta get my life on track, ya know? And I can't do that livin' with a sex slave."
I closed my eyes. "Don't leave me here, please. Take me back to Miami."
"And let those vultures get their hooks into you? Not a chance." He straightened and patted Anthony's shoulder. "You can trust this guy. He'll help you get your life on track, too."
My gaze flicked to Anthony, back to Frank. "Are you leaving now?"
"Yeah." He scrubbed at his face with a big hand and walked past me. "Take care of yourself," he said, striding out of the church.
Anthony's gentle voice broke into my desolation. "Rex?"
The very word made my skin crawl. "That's not my name anymore."
He fell silent, and I looked at him. "So you're my new master."
His mouth crooked, and my gaze dipped briefly to his lips. "You don't have to call me that."
I shoved my hands into the pockets of my jeans. "How much did Frank tell you?"
"He told me a lot. Most of it I don't understand, but the bottom line is that you're homeless right now."
My body jerked.
He caught my gaze when I tried to look away. "Don't worry. You can stay with me until we get this settled."
Anthony really didn't understand what he'd gotten himself into. I didn't know much about churches and ministers and preacher's sons, but I did know he'd pass me along sooner or later.
It was the one thing in my life that never changed.
---

---
WAIT, THERE'S MORE!
So, now that you've read all about Rowan's book, you'd probably like to hear about how you can win it. Well, I'm sorry to say, you can't, because it isn't finished yet. However, you can win a lovely prize over on
her blog
. Before you wander away, leave a comment on this post to be entered in a drawing to win a PDF of my book,
Song of Oestend
.
*****
Song of Oestend
by Marie Sexton
Symbols have power…
Aren Montrell has heard tales of the Oestend wraiths – mysterious creatures which come in the night and kill anyone who's not indoors. Aren's never had reason to believe the stories, but when he takes a job as a bookkeeper on the BarChi, a dusty cattle ranch on the remote Oestend prairie, he soon learns that the wraiths are real. Aren suddenly finds himself living in a supposedly haunted house and depending on wards and generators to protect him from unseen things in the night. As if that's not enough, he has to deal with a crotchety old blind woman, face "cows" that look like nothing he's ever seen before, and try to ignore the fact that he's apparently the most eligible bachelor around.
Aren also finds himself the one and only confidante of Deacon, the BarChi's burly foreman. Deacon runs the BarChi with an iron fist and is obviously relieved to finally have somebody he can talk to. As their relationship grows, Aren learns there's more to Deacon and the BarChi than he'd anticipated. Deacon seems determined to deny both his Oestend heritage and any claim he may have to the BarChi ranch, but if Aren is to survive the perils of Oestend, he'll will have to convince Deacon to stop running from the past and finally claim everything that's his.
1st Place: Best Gay Romance, 2011 Rainbow Awards
1st Place: Best Character Development, 2011 Rainbow Awards
Honourable Mention: Best Gay Novel, 2011 Rainbow Awards
*****
Ready to move on? The next stop on the Erotic Romance Scavenger Hunt is… Emily Cale!
Good luck!